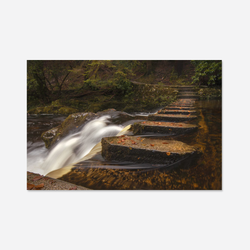 Tollymore Stepping Stones Canvas
We all know of the famous stepping stones in Tollymore Forest, but did you know there is a second set of stepping stones? These are on up the river and here the Autumn colours were starting to show in the now falling leaves and creates A beautiful contrast to the dark stones. Imagine this beautiful Art work in your Wall at home.
All of our canvas are hand made with the finest materials and printed using Ultra-Chrome Inks, providing best in class colour reproduction.