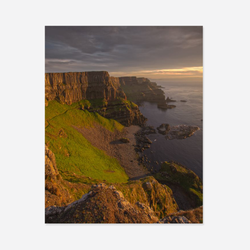 Cliff Light Causeway (Hamiltons Seat) Canvas
The Majestic Clifftops of the stunning Hamiltons Seat area of the Famous Causeway Coastline. You really know Summer has arrived when the sun reaches the North Antrim Coastline at Sunset, when you get the sun shimmering over these stunning cliff tops.
All of our canvas are hand made with the finest materials and printed using Ultra-Chrome Inks, providing best in class colour reproduction.